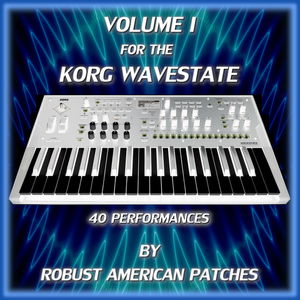 This collection contains some 40 performances and 130 programs for the Korg Wavestate/Wavestate S.E. (You also get 11 complimentary performances...see below) Every performance in this set makes heavy use of the various controllers...The modwheel, aftertouch, vector joystick and of course the 40 mod knobs. (8 performance knobs and up to 32 layer mod knobs) If you are looking for vibrato, try the modwheel or aftertouch. Be sure to give the performance and layer mod knobs a spin to further customize the sounds to your needs. We tried to keep the mod knob assignments consistent from performance to performance and program to program but there are more than a few exceptions. Most of the performances in Volume I use the master performance knob as a master filter knob. It usually controls the filter cutoff of all the layers simultaneously. Sometimes it also controls other filter parameters as well. We suggest that you experiment with all of the controllers, both at the layer level and the performance level, to get the most out of these performances.
Volume I for the Wavestate includes:
40 Performances
(You get both a "Bundle" file and the 40 individual performance files)
130 Programs
(
You get both a "Bundle" file and the 130 individual program files)
(You get both a "Bundle" file and the 11 individual performance files)
page for some essential info.