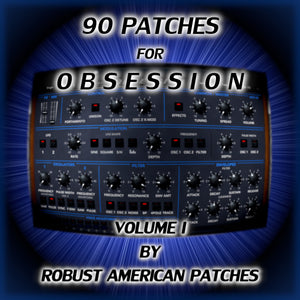 Greetings and welcome to our Obsession! Volume I for Obsession contains 90 brand new custom patches! (As usual, we've also added 10 complimentary patches to make it an even 100) The list below is sorted by category to give you an idea of what's included. We might have went a little overboard with the leads...
Leads - 18
Strings - 10
Plucked - 9
Pads - 8
Poly Synths - 8
Sequences - 7
Bass - 7
Bells - 5
Brass - 4
Keys - 4
Drums - 4
Sound FX - 4
Splits - 2
Plus 10 Complimentary Patches!
Complimentary Patches for Obsession - (Direct Download) Our complimentary patches are included when you purchase Volume I for Obsession.
These patches use the 4 most common controllers extensively. (Velocity, Aftertouch, Modwheel and Pitch Bend) If you don't utilize aftertouch you will be missing a huge part of the fun when playing these sounds. If your controller doesn't offer aftertouch you can always edit it in after the fact. You can check out the full patch list here. (pdf file) We would like to say thank you to Synapse Audio Software for creating this virtual monster of an instrument!
 PATCH DEMONSTRATIONS