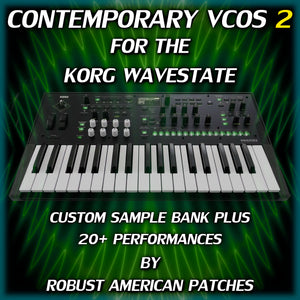 Welcome to our third release for the Korg Wavestate and Wavestate Native...
Greetings synthusiasts and welcome to our latest release for the Korg Wavestate and Wavestate Native. Contemporary VCOS 2 contains a brand new custom sample bank and 20+ custom performances. (47 Performances in total!) While our first custom sample bank, "Contemporary VCOS", focused on the saw wave of the OB-6, Contemporary VCOS 2 is based on the square wave and pulse width modulation. This new sample bank includes 6 VCO multisamples that cover 5 full octaves. (61 samples each) There is also a 7th "bonus" multisample of a Maj7 chord stab that is DCO based. (25 samples or 2 full octaves) Contemporary VCOS 2 contains 391 samples in total. The samples are long and the loops are crossfaded for a seamless playing experience. Each multisample comes complete with an initialized program to get you started when you want a blank slate. Each performance has extensive layer mod knob and performance mod knob assignments.

The multisamples in this bank include:
1. "OB-6 Square.korgmultisample" Raw square wave.
2. "Square PWM.korgmultisample" LFO pulse width modulation.
3. "Square VPWM.korgmultisample" Same source samples as above with randomly altered sample start times to offset the lfo cycles a bit.
4. "Square XMPWM.korgmultisample" X-Mod pulse width modulation. (The pwm speeds up as you play higher notes)
5. "Unison Cubed.korgmultisample" 3 voice unison square wave.
6. "SNH 108bpm.korgmultisample" This multisample has the sample and hold modulation "baked in". (Sample and hold is modulating the filter cutoff, filter mode and pulse width modulation) The samples themselves contain loops but you can also use the timing lane in tempo mode to set up loops at most beat division settings.
7. "Maj7 Chords.korgmultisample" Maj7 Chord Stab...This is the bonus multisample. (It is DCO based and only covers 2 octaves)

What's Included:
Sample Bank
- 7 Multisamples taken from custom patches created with the OB-6.
47 Performances
- Layered Synths, Arpeggios and Splits.
100 Programs
- Pads, Strings, Synth Brass, Poly Synths.
We've included 2 "Bundle" files that contain all of the performances and programs as well as the individual performance and program files.
CONTEMPORARY VCOS 2 PATCH LIST
VIDEO DEMONSTRATIONS
THANKS FOR CHECKING OUT CONTEMPORARY VCOS 2!!!