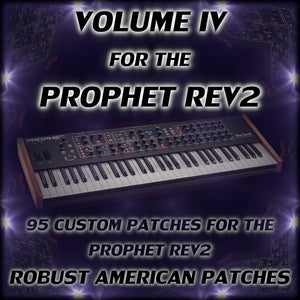 Greetings Synthusiasts and welcome to our 4th release for the Sequential Prophet Rev2. Volume IV contains 95 synthesizer presets and includes a little bit of everything. (Check the "Patches by Category" list below to see the goods) Just like Volume III, nearly all of the single layer patches in this collection also include a layer B. Simply hit the "Stack A+B" button so it lights up to turn on stack mode and hear both layers simultaneously. Remember, this will cut the available voices/polyphony in half. The patches in Volume IV have extensive modulation assignments and make full use of the modwheel, pitchbend, velocity and aftertouch controllers for a very expressive experience. 
Patches by Category:

Arpeggios and Sequences: 30
(Many of the patches in the Arpeggios/Sequences category are stacks or splits where at least one layer is an arpeggio or a sequence)
Leads: 20
Check out the Volume IV Patch List Page
Patch List PDF
What's Included?

1. The Volume IV bank file: "Volume IV Prophet Rev2 by RAP.syx" This single sysex file contains all 95 patches and will load into User Bank 4. (Please back up your existing patches before loading Volume IV as this will replace/erase the internal contents of your Prophet Rev2 user bank 4!!!)

2. The Volume IV individual patch files: 95 individual sysex patch files. These files will load into User Bank 4 (P1 - P95)

3. We've also created a Volume IV patch list pdf file and a patch list page.

VIDEO DEMONSTRATIONS