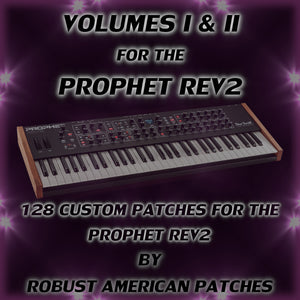 128 Custom Synth Presets for your Sequential Prophet Rev2 Synthesizer!!! This has been a really long time in the making, and we hope you find the sounds more than inspiring. Working with the Rev2 has been extremely fun, and we hope that comes through in these synthesizer patches. These patches are delivered as sysex files. You get both the bank file, containing all 128 patches, as well as the individual sysex files for each patch. Also included are 7 "Alternate" patches that got sidelined for one reason or another as well as the 15 free patches that are always available here. That's 150 presets all together!
Sysex Tools: (PC) Midi-Ox or (Mac) Snoize
In this collection you will find a little bit of everything...Basses, Leads, Pads, Drums...All the usual suspects are here. Please watch the videos for complete coverage. For patch descriptions and even more info, download the Rev2 Patch List (pdf) for this collection of sounds.
Volumes I & II for the Prophet Rev2 (Patch Demonstrations)