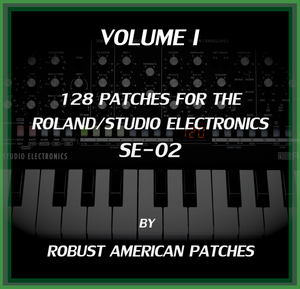 We are extremely proud to offer Volume I for the Roland/Studio Electronics SE-02! This collaboration between Roland and Studio Electronics, in our opinion, is the stuff that future synth legends are made of. The analogue guts of Studio Electronics inside of a Roland boutique synth is just so crazy it might work. And work it does!
Volume I consists of 128 Synthesizer Patches lovingly hand crafted from scratch using the SE-02 interface and the official S.E. Editor. These sounds beg to be played from a controller with a modwheel and aftertouch. (Nearly every single patch in this bank has both MW and Aftertouch assignments...Not to mention Velocity and Pitchbend) So what is included? You get the S.E. Editor Bank Files and the USB Drive Folders with quick "read me" files explaining how to load the bank. You also get the Robust Notes Patch List and Descriptions File that includes the patch names, categories and brief patch descriptions.
Thanks for visiting!
Volume I Patch Demonstrations: