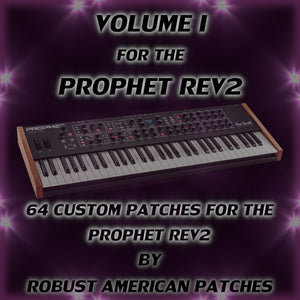 64 Custom Patches for your Sequential Prophet Rev2!!! This has been a long time in the making, and we hope you find the sounds more than inspiring. Working with the Rev2 has been extremely fun, and we hope that comes through in these synthesizer patches. These patches are delivered as sysex files. You get both the bank file, containing all 64 patches, as well as the individual sysex files for each patch.
Sysex Tools: (PC) Midi-Ox or (Mac) Snoize
In Volume I you will find some 80's Soundtrack inspired craziness as well as more modern and contemporary styles of sounds. Heavy synth basses and powerfully smooth leads along with several drums kits. You also get plenty of pads and strings. You even get an acoustic piano created for very soft playing and an almost too realistic choir, complete with lazy pitched singers. For patch descriptions and even more info, please download the Rev2 Patch List (pdf) for this collection of sounds.
Volume I for the Prophet Rev2 (Patch Demonstrations)