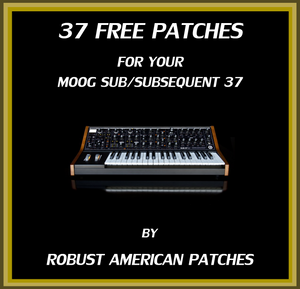 Yes! You read that correctly!
Thirty-Seven complimentary synthesizer patches for your Sub/Subsequent 37! OK...5 of the patches in this collection are different versions of the rimshot sound from the TR-909. We felt that the tone varied enough to include them all. Some of the demos below have a soft echo added for a bit of ambience.
"Unbroken Bass" is a sound we created for a Moog forum member in need. The demo for this patch (Soundcloud) has some extra processing going on which is explained in the forum post. 7 of the patches below do not have demos as of yet. So many synth demos, so little time. The nine patches at the top of the list (Yellow) are the original free patches that we released in 2019. The rest (Orange) are brand new. Click on the patch names below for cued up YouTube demos. You can also play the entire video, which contains a short demo song, at the bottom of this page.