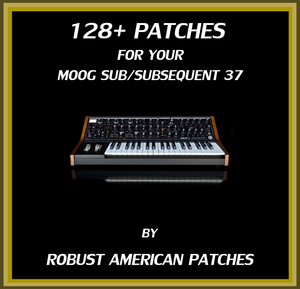 We are extremely pleased to announce Volumes I & II for the Moog Sub/Subsequent 37! This collection of sounds includes Volume I (73 for the 37), Volume II (64 Patches) as well as 28 brand new complimentary patches for a grand total of 165 patches!
 (If you've already purchased Volume I, "73 for the 37" and don't want to pay for the same sounds twice, head over to Volume II for the Sub 37 to complete your Robust Bank for the Sub 37)
Nearly every patch in this collection comes complete with extensive modwheel, aftertouch and velocity assignments. These sounds are meant to be played and programmed to be extremely expressive. Many of these sounds use the sequencer as an extra modulation source. (Usually when both LFOs are already busy and we still wanted to add some vibrato or do something extra with the MW) Quite a few of the bass patches sound absolutely great as leads and vice versa. Here's a break down of what you get...Sorted by category.
48 Lead
24 Bass
22 Percussion
19 Sequence
16 Sound FX
10 Classic

  7 Duo
  6 Arp
  3 Sync

  2 Brass
  2 Evolving
  1 Drone
  1 Pad
  1 Vox
  1 Key
  1 String
  1 Woodwind
These Patches are delivered as Sysex files (.syx) They were created using the official Moog Sub 37 Editor but they work perfectly with your favorite sysex tools as well.
We've included 2 sysex bank files...
128 Patches Sub 37 Bank File by RAP.syx
37 Free Patches Sub 37 Bank File by RAP.syx
~
~
We've also included the individual sysex files for each patch along with a
clickable pdf patch list
which contains 
cued up demo links,
patch names, categories and controller assignments. (MW, Aftertouch and Velocity) We decided to try a different approach with the descriptions this time around. Why read about a sound when you can actually listen to it and evaluate it first hand? So with that in mind, we have discarded the descriptions in favor of a clickable patch list. We hope you enjoy using these sounds as much as we enjoyed creating them. Thanks for visiting with us!
~
~
~
Patch Demonstrations