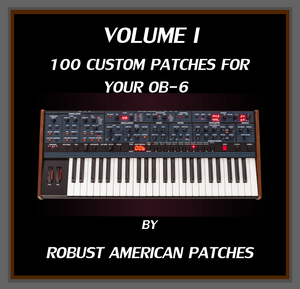 100 custom presets for your Tom Oberheim/Dave Smith OB-6. The collaboration between these 2 pioneers of synthesis has produced a synth for the ages. We feel extremely lucky to have been able to own and work with such a fine American Analogue Synthesizer. This bank of patches has been in production for over a year and a half and the end result is something we are quite proud of.
Instead of trying to describe the sounds, we are big fans of letting the demonstrations do the speaking. All the YouTube demonstrations are below. 98 sounds are represented in these videos. As always, the preset names are burnt into the video and there is no talking. For patch descriptions and even more info, please download the OB-6 Patch List (pdf) for this collection of sounds.
These patches are delivered as sysex files. (.syx) You get both the complete bank file, containing all 100 presets, as well as the individual sysex files for each preset. We've also added a SoundTower editor bank file. The patch list pdf is also included in the download in case you missed it here at the sight. Sysex Tools: (PC) Midi-Ox or (Mac) Snoize
The Complete OB-6 Demonstrations: 
Thanks for checking out our patches for the OB-6!