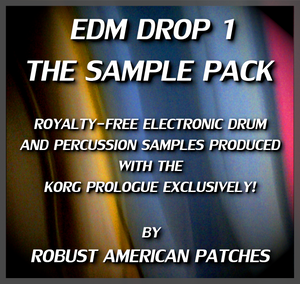 This is a collection of 77 royalty-free synthesized drum and percussion samples. All the sounds are from our newest bank of presets for the Korg Prologue. Attention: These Wave Files Are RAW! Straight from the Prologue => Audient ASP-880 => Nuendo at 24bit/48khz! These sounds were normalized in Nuendo and that's it. Any reverb ambience you hear was part of the original Prologue preset and can be controlled with your sampler's amp envelope. The now famous L.F. Comp, only available with the Prologue 16, was engaged and much time was spent getting the perfect settings for each sound. This usually ended up with the knob somewhere between 10 and 2 o'clock. So nothing too heavy handed was done there but it imparted it's girth just the same. These are custom diamonds in the ruff for you to mangle and mix how you please. I'm a firm believer of leaving the sounds as raw as possible. How could anyone know what type of production your next project will need? This is what you get:

24 Snare Drums:
(Punchy Electronic Snares, Machine Like Data Bursts, even a very realistic Acoustic Snare Sound)

19 Kick Drums:
(Everything from tight knocks to self oscillating filter sub booms)

11 Percussion and Misc:
(Corroded bells, Resonant Thwaks, Shakers, and Digital Chirps that take very nicely to some resonant filter applications)

9 Hi-Hats:
(7 Closed Variations and 2 Open)

9 Cymbals:
(Crashes and Rides)
5 Loops:
(3 Different Kick Drum Loops from the Glitch Kit preset. A Glitch Kit Machine Hat Loop and a Shaker loop)
Again, these are raw samples to use in the drum machine of your choice. We've included a single Groove Agent preset created in GASe4. (Version 4.2.40) After testing the "Export Kit with Samples" option, we've decided it's too buggy to use reliably. So instead, we've included a regular Groove Agent 4Se preset file. Simply drag and drop the file onto the Groove Agent interface. (Either a slot in the kit slot section or on the kit name field in the kit rack) The Groove Agent Preset features color coded pads and over an octave of a chromatically tuned Filter Boom Bass:
Red = Kick Drums
Blue = Kik Booms/Basses
Orange = Snare Drums & Claps
Yellow = Hats & Perc
Turquoise = Synth Perc
Pink = Loops
Purple = Bells
Green = Glitches
The EDM DROP 1 Sample Pack also contains additional samples that aren't in this demonstration. Check out the
Robust Notes & Info file
for a full list of all the included samples and some additional information.

We here at Robust American Patches would like to sincerely thank you for your interest and support...Enjoy!
EDM DROP 1 Sample Pack Demonstrations